#TropicsAndFriends • A Tweeterview with Afua Sam, Multi Award-Winner Fashion Designer @ Studio Dmaxsi
26
août
2013
Johannesburg, SOUTH AFRICA - The first 'Tropics And Friends' session took place on Saturday 24 August on Twitter (@TropicsMagazine) with Multi Award-Winning Fashion Designer, AFUA SAM. She answered questions from international users and fans who joined her aroun 9:30 (EST/Washington DC time) on Twitter to discuss the success of her label and her vision for the future of African Fashion.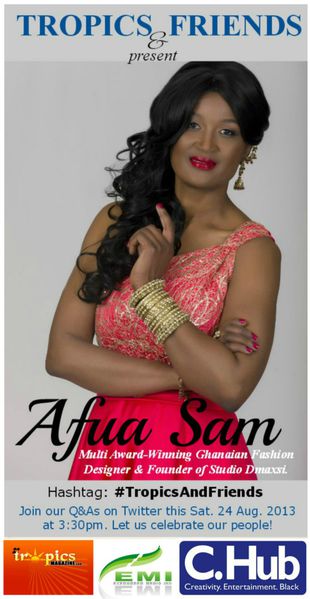 First to showcase for this 'Tropics And Friends' session was Multiple Award-Winning and highly sought after Ghanaian Fashion Designer, AFUA SAM, who is the Founder and brain behind STUDIO D'MAXSI, one of the fastest growing fashion houses based in the Washington, DC. Unique, innovative, and edgy AFUA SAM of STUDIO D'MAXSI creates masterpieces for the chic and funky modern woman.
Born to a family of six, remarkably self-taught, AFUA SAM draws her creative inspiration from her late musician father and determination from her mother. She attributes her Ghanaian roots and rich culture as one of her many inspirations for the creation of her designs. Our guest knocked this session out of the park on a variety of topics around Design, Fashion, Style and Entrepreneurship.
Below is Fashion Designer, AFA SAM, answers to her fans' questions:
Q1: Good morning @dmaxsi How are you feeling this morning?We're all settled, just waiting for our time to come. #TropicsAndfriends #Tweeterview
A.S-> yes I am! The weather is beautiful and I actually hate that the summer is coming to an end!
Thank you very much for having me! Feeling great!!
AS-> It started from Ghana, my homeland. I grew up facing many challenges and never thought I would come this far. But thank God I found fashion and it saved my life!!
A.S-> Mostly from everything around me but, really, I have a brain like a drawing board. I am constantly producing new crazy designs. Choosing color usually depends on my mood.
A.S-> I have been a designer since my teenage years and 4 words that describe my design style: BOLD, CLASSY,CHIC and SEXY!
A.S-> Well, I look forward to D'MAXSI becoming a household name all over the world!!!!
:-) you are most welcome! It was my pleasure and I had fun! Thank you so much for organizing this! ANd hopefully, I will see you in South Africa for the next Fashion Adventure!!
Thank you to all the fans and all who participated all over the world!! Please feel free to tweet other questions if any!
To learn more about AFUA SAM or her fashion brand, please go to her official website: www.studiodmaxsi.com ; Follow her on Twitter: @dmaxsi.
For more information about "Tropics And Friends" sessions, please visit:
Tropics Magazine: http://www.facebook.com/TropicsMagazineWorld
C.Hub Magazine: http://www.facebook.com/CHubMagazine
PR and Publicists who wish to have their clients interviewed on this live interviews should contact either Tropics Magazine (tropics.info@gmail.com) or our partner C.Hub Magazine (info@fauntee.com).