Tanzania: Malaria on the Decline Among Kids by 40 Percent
12
oct.
2012
THE Tanzania HIV/AIDS and Malaria Indicator Survey has shown that the overall prevalence of malaria in young children dropped 44 per cent between 2008 and May 2012.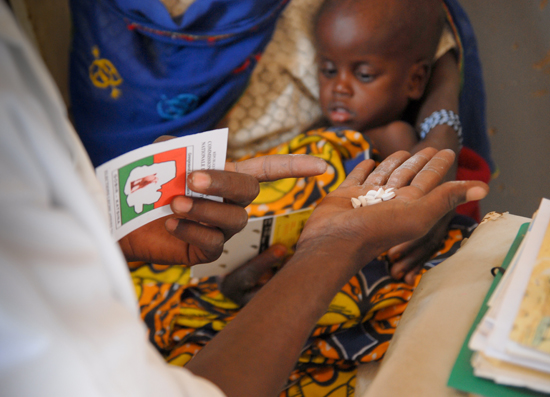 According to preliminary Malaria Results of the 2011/12 HIV/AIDS and Malaria Indicator Survey (THMIS) released in Dar es Salaam, the rate of malaria infection stood at 18 per cent, but has now dropped to between 10 and 12 per cent.
The survey further named regions with the lowest malaria prevalence among children as Arusha, Kilimanjaro, Singida and Iringa. However, Arusha is leading in severity of anaemia among children, (16 per cent) among children aged between 6 and 59 months.
Pregnant women and children are the most vulnerable and regions identified to have registered the highest prevalence include Geita (33 per cent), Lindi, Kigoma and Mara (26 per cent each).
Unveiling the report, the Minister for Health and Social Welfare, Dr Hussein Mwinyi, said findings of the research were crucial as they would highlight areas of concentration to fight malaria more efficiently.
Malaria is still a leading killer disease but the recorded achievements are quite impressive, indicating that we (Tanzania) are moving the right direction.
"If not controlled malaria affects implementation of development strategies like MKUKUTA and MKUZA for the Mainland and Zanzibar respectively," Dr Mwinyi said.
The minister insisted that there would be no let up in the fight against malaria through application of proven interventions, which include dissemination of information on the use of insecticides treated bed-nets, in-door residual spray, proper diagnosis and treating malaria using highly effective drugs.
The survey also revealed that rural children are more likely to test positive for malaria than their fellow in urban areas, 11 per cent in rural areas compared with 3 per cent in urban areas.
With regard to ownership and use of Long Lasting Insecticidal Nets (LLIN) to control malaria transmission, households in rural areas are more likely to own such nets compared to their counterparts in urban areas (92 per cent and 84 per cent respectively).
According to the Tanzania Demographic and Health Survey, ownership of any kind of mosquito net has increased from 75 per cent in 2010 to 95 per cent in 2011/12.
Kagera Region has the highest proportion of children that sleep under Insecticide Treated Mosquito Nets (ITNs). This followed intensified efforts to scale up Indoor Residual Spraying (IRS) in the Lake Zone regions that covered Kagera (91 per cent), Mara (62), Geita (51) and Mwanza (42).
Ms Mayasa Mahfudh Mwinyi from the office of Chief Government Statistician Zanzibar (OCGS), said the percentage of households in Zanzibar that owned mosquito nets ranged from 83 to 93 per cent. Zanzibar has less than one per cent prevalence of malaria.