4th ANNUAL ANKARA FESTIVAL & AFRICAN FASHION SHOW LA 2013 HIGHLIGHTS DIVERSITY OF AFRICAN DESIGNERS & ARTISTS
24
sept.
2013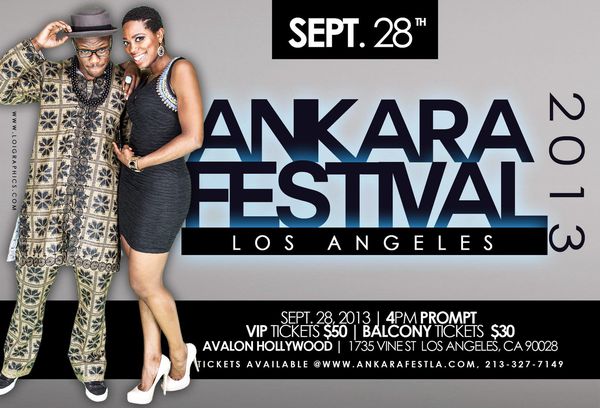 WHEN: Saturday, September 28, 2013 from 4pm-9pm
WHAT: The Ankara Festival was designed to showcase upcoming and established designers who specialize in using traditional African fabrics and prints to create contemporary clothing in a fashion show.
THE SHOW
Event Hosts: Duain Richmond (FELA! On Broadway) and Yvonne Orji (Actress and Comedienne)
Featured Headlining Fashion Designer: Korto Momolu (Liberia & Project Runway, Season 5 & All Stars)
Featured Fashion Designers: Afriq Expression (Nigeria); Dewan Apparel (Nigeria); Nice Trads (Nigeria); Nsaa House of Designs (Ghana); OYATO Designs (Nigeria); Solome Katongole (Uganda); Sumahrie Collections (Sierra Leone); Tee Designs (Nigeria)
Featured Performing Artists: Chibbz, Lola Savage, Naomi Wachira, Rahab, Stylzz, Titi Lo'Kei
THE VENUE: Avalon Hollywood, 1735 Vine St., Los Angeles, CA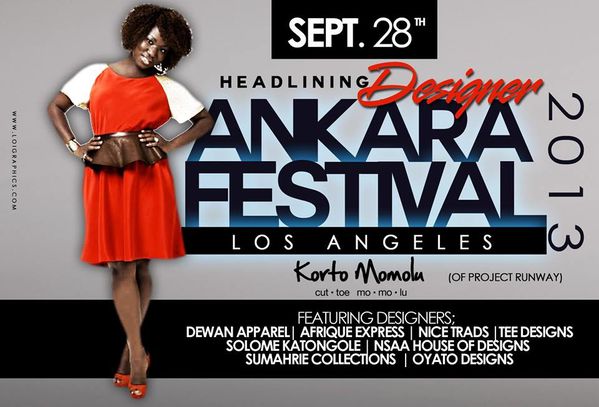 MISSION: The mission is to enhance awareness about Africa's rich culture in society. Ankara Festival Los Angeles is unique platform to bridge the gap between generations of the new Age African Africans and the western world through fashion and music. Through entertainment and various partnerships, this production aims to foster unity.
2013 Ambassadors: Lara Okunubi (Philanthropist), Monalisa Okojie (Celebrity Jeweler), Sammi Rotibi (Actor)
EVENT SPONSORS: Arik Airlines, CURLS, Luxe Therapy, MUD Cosmetics, Paul Mitchell Sherman Oaks, Sweet Dreams Cakes n Things
EVENT PARTNERS: Primo Arts, Royal Dynamite, SPICE TV, TOMS, Twin of A Kind
EVENT EXIBITORS: 1st Class Fashion Photography, Araali Designs, Kiki Lee, Klutch It, Patsie Girl
EVENT PRODUCERS: Peter "Lentini" Efezokhae (Founder & Creative Director) Bimpe Efezokhae (Founder& Executive Director) Dunnie Onasanya (Special Events Producer & Public Relations) Demola Ogunnaike (Co- Director)
LINK TO EVENT 2013 SIZZLE REEL: http://youtu.be/J7jOEZrJUe8