Sasha and Malia Obama named to 'Influential Teens' list
15
oct.
2014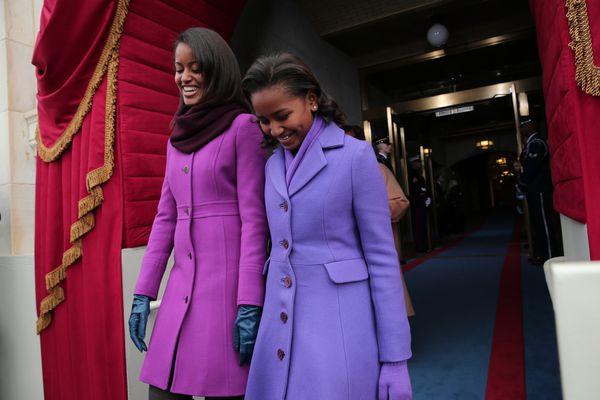 Sasha and Malia Obama, the teenage daughters of President Barrack Obama, made Time Magazine's list of "25 Most Influential Teens of 2014."
The list, released on Monday, also featured Kylie and Kendall Jenner, recent Nobel Peace Prize laureate Malala Yousafzai and Jaden Smith, amongst others.
Malia, 16, and Sasha, 13, have grown up under the watchful eye of their powerful parents. But the past year has seen both teens make huge splashes with their various endeavors.
Late in 2013, Sasha became a fledgling fashion influencer when she was photographed courtside at aUniversity of Maryland basketball game wearing a unique unicorn sweater. The photograph went viral on Twitter, and the ASOS Unicorn Sweater, which retails for $19, was soon sold out on the retailer's site.ASOS promised a swift restock shortly thereafter in a tweet that read, "The Sasha Obama unicorn jumper WILL be restocked (party, party, partaaay!)"
Malia, on the other hand, took a clandestine Hollywood internship over the summer to explore her passion for filmmaking. The 16-year-old's name has grown in popularity as a baby name in America, and her appearance at the Lollapalooza music festival held in Chicago this past August met with a lot of attention from the festival-going crowd.
Other notable teens on the list included Mo'ne Davis, the 13-year-old Little League pitcher from Philadelphia who graced the cover of Sports Illustrated following her dominance in the Little League World Series, and Rico Rodriguez, the 16-year-old star of ABC's popular comedy Modern Family.
The complete list can be found on the magazine's website.
Written by @CarrieHeals / Credits: The Grio.