TROPICS Magazine – Issue 53 – Launch
17
sept.
2014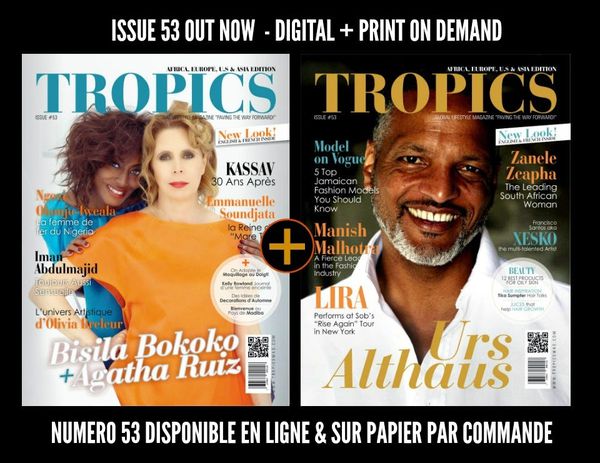 (Johannesburg, SOUTH AFRICA) -- TROPICS Magazine is proud to announce the launch of the 53rd issue this month throughout Africa, Europe, the USA and South Asia. "Tropics Magazine, Fashion Issue" presents an exciting issue honoring the achievements of Urs Althaus and Agatha Ruiz de la Prada, two iconic fashion figures in a newer, sleeker and more elegant format. TROPICS layout has been changed and improved to give the reader a more rewarding experience on line and in print. With selected photographer's portfolios, the new version of the magazine remains 100% elegant and innovative.
Urs Althaus, the first black Model to appear on the American GQ magazine cover; Agatha Ruiz de la Prada, the iconic Spanish Fashion Designer, and Bisila Bokoko, the International Brand Ambassador and renowned Businesswoman are just some of the names featured in this issue alongside Awards-winning Musician LIRA and multi-talented "lusophone" Artist XESKO.
Particular attention is given to emerging international talents and young entrepreneurs, such as the fresh and explicit Manish Malhotra from India, the leading young Entrepreneur from South Africa Zanele Zcapha and, interesting reportages of "Les Premieres de la Mode" annual fashion show in Martinique.
TROPICS Magazine – Issue 53 – is already available online and in print-on-demand at a cover price which can be distributed across the world.
TROPICS Magazine is an independent magazine created by a team of professional multimedia journalists and visual artists based mainly in South Africa. The team launched the first TROPICS Magazine in March 2010 driving inspiration from the cosmopolitan society we live in. They wanted to generate a new space, entirely dedicated to global fashion and lifestyle.
"Being the first publication in the world to release the news of Agatha Ruiz de la Prada's upcoming participation at the 2014 Nigerian Fashion Week as a "Special Guest" and the acknowledgement of Urs Althaus achievements in the fashion industry is simply groundbreaking. This is the first of many to come TROPICS Magazine "collector issues" everyone should own. TROPICS Magazine is indeed the publication that is paving the way forward" says Chief Editor Vénicia Guinot.
Since the year 2010, TROPICS Magazine has become an important reference, not only for the fashion and lifestyle world, but also for its innovative editorial style and contents which is sent out to its readers in two of the most spoken languages in the world: English and French. The publication attracts 200,000+ visitors per month and uses its digital platform on Issuu as a powerful tool to represent the world we live in.
For more details, get in touch with the team:
General info: info@tropicsmag.com