Nigeria's Chibok Girls Forced to Marry Abductors - Report
28
août
2014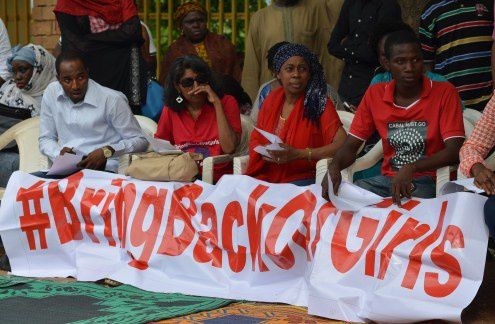 Watchlist on Children and Armed Conflict, an international network of human rights and humanitarian non-government organi-sations, has condemned the violation of children's rights in North-eastern Nigeria.
In a 64-page report released yesterday, the group said warring parties in the zone had subjected boys and girls to forced recruitment, detention, attacks at school, abductions, rape, and other forms of sexual violence.
It said the the gravity and scale of these violations warranted urgent action from the Nigerian government, United Nations, and other child protection actors.
The report, entitled "Who Will Care for Us? Grave Violations against Children in Northeastern Nigeria", detailed grave violations by some parties to the conflict since December 2012.
Janine Morna, a researcher at Watchlist on Children and Armed Conflict, said the humanitarian response to violations against children had been slow, fragmented, and unable to meet the fast-growing needs of those affected by the conflict. Few international actors currently engage in the northeast, leaving the government and local groups, with limited capacity, to support survivors.
Morna said the Nigerian government, United Nations and non-governmental agencies must take urgent steps to recruit experts with experience operating in a conflict situation and scale up programming to support some of Nigeria's most vulnerable and marginalized children.
"While the abduction of over 200 girls in Chibok, Borno State, has shed some light on how children are affected by the conflict in the northeast, most abuses are still poorly documented, understood, and addressed by key actors. Of particular concern is the forced recruitment of children for spying and assistance during armed attacks by Jama'atu Ahlis Sunna Lidda'awati wal-Jihad, commonly known as Boko Haram, and the Civilian Joint Task Force ("Civilian JTF"), a self-defense militia formed in mid-2013 in Borno State.
"Children as young as 13 are being recruited by both sides of the conflict and have nowhere to turn," said Morna. Moreover, Nigerian security forces who encounter child soldiers in Boko Haram's ranks often detain these children in unofficial military detention facilities known for the mistreatment of detainees, instead of protecting and rehabilitating them, in accordance with international standards. "The government of Nigeria should denounce the recruitment of children by all armed groups, take immediate steps to release child soldiers in their custody, and develop procedures to transfer child soldiers to civilian actors.
"Watchlist also researched attacks on schools in the region which, according to their media survey, has resulted in the death, injury, or abduction of at least 414 students, teachers, or other civilians on school premises between January 2012 and July 2014. Continuous attacks on schools have devastated education in the region, creating a climate of fear for students and teachers, and leading to school closures from as early as April 2013. Relevant actors must bolster school security through programs like the Safe Schools Initiative," said Morna.
Written by Isiaka Wakili