Movie Review: The Boy From Geita, a Movie About Albinism in Tanzania
28
août
2014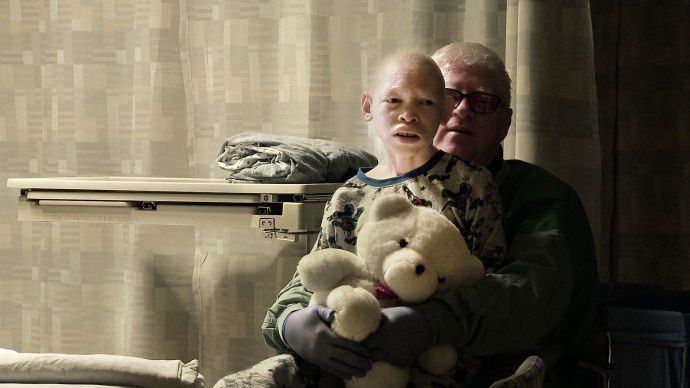 Adam lives in northwestern Tanzania and has horrible nightmares of men coming into his room and killing him. The 12-year-old boy lives in a country that has more people with albinism per capita than any in the world. Surrounded by a dark-skinned population, albinos' white complexion ensures they are victims.
Witch doctors believe that possessing albino bones will make you rich; as a result, people in the villages hunt down albinos and try to hack off their arms and legs. After Adam's father tries to reap some of this gold by maiming his son, the boy's story becomes known on the BBC. Canadian businessman Peter Ash flies to Tanzania after reading about Adam, hoping to arrange a surgery in Canada to repair the boy's scars and battered arms.
Filmmaker Vic Sarin's latest is a shattering story about intolerance that is hard to shake. His discussions with Adam and Mariam, a girl who was bullied by classmates and later injured due to her albinism, are startling and shocking. He uses quick edits of birds screaming and feet trying to escape an intruder to show the nightmare these young souls live with. They cannot live peacefully and those who survive vicious attacks have an even deeper shame. Regardless, the scenes at Jelly's School, a safe house for albino Tanzanians where they can learn and play without fear, are even more deeply moving.
Sarin also brings context to why the country has such terrible, tragic violence. Local folklore sees albinos as like ghosts or cursed things. There are many stories of parents drowning or abandoning their child who is born with the skin condition. Sarin shows the squalor of these places, as well as the savagery of some of these killers. The Boy From Geita turns a bit false with its cheery conclusion (a plug for Ash's organization Under the Same Sun that does not really work with the rest of the film's dark tone). Regardless, the doc is a revealing, devastating account of modern-day intolerance.
Yes, although it is a difficult film to watch due to its graphic subject matter. If you can stomach the violence and gore, The Boy From Geita is a frightening but tremendously moving documentary that will be hard to shake.
Written by Jordan Adler
(The Toronto Film Scene)