Zimbabwe: 'Remaining White Farmers Must Go'
14
juil.
2014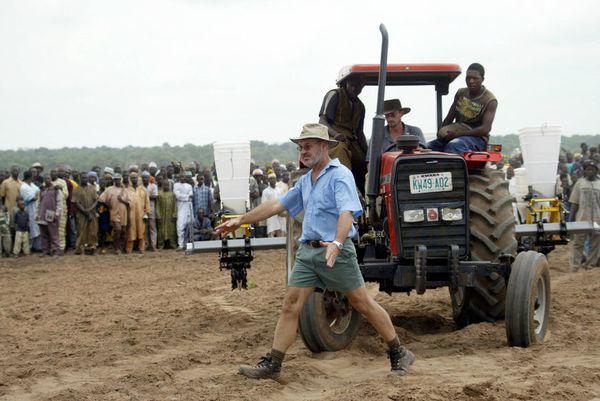 JUSTICE Minister Emmerson Mnangagwa has vigorously denied President Robert Mugabe demanded the expulsion of the few white farmers who remain on the country's prime agricultural land.
More than 3,000 whites were forced off their lands when the Zanu PF politburo unleashed veterans of the liberation struggle on the white commercial farming community, apparently angered by Britain's refusal to fund land reforms.
A few hundred remained and it was these Mugabe was thought to be targeting when he declared: "We say no to whites owning our land, and they should go.
"They can own companies and apartments ... but not the soil. It is ours and that message should ring loud and clear in Britain and the United States."
The 90 year-old leader was addressing party loyalists at a recent meeting in his Mashonaland West home province, also the country's agricultural hub.
The remarks drew widespread condemnation with ordinary Zimbabweans saying their aging leader's racist tirades were unhelpful at a time the country was trying to re-engage the West to help mend its failing economy.
Among those disgusted by Mugabe's rants was MDC-T Zvishavane senator Lillian Timveos who quizzed Mnangagwa during Senate session last week on whether Mugabe was overriding the constitution which granted all Zimbabweans of whatever race the right to own property.
In his response, the justice minister did little to hide his usually fawning defence of his boss, claiming Mugabe was "misunderstood".
"Assuming that he said what you say, which of course is not correct, the President is very clear on that issue," he said.
Mnangagwa, a top Mugabe aide, said white Zimbabweans were not barred from land ownership under the country's constitution.
He said whites were among land beneficiaries during Zimbabwe's chaotic land reform at the turn of the century with some of them getting offer letters.
"You misunderstood him, but let me explain to you so that you do not have problems," said Mnangagwa.
"The President said that those farmers, black or white, who have been issued with land and proceed to sublease to the whites who owned the land before; that is not allowed. This is one reason why we are talking about land audit," he said.
Mnangagwa delved into history, reminding the legislators on how the first white settlers robbed the resource from indigenous blacks, how the eventual return of the land came at a massive cost in terms of lives lost during the liberation war and how a triumphant black government later took steps through constitutional amendments to restore the resource to black ownership.
In later years, he said, 265,000 Zimbabwean families found descent land when Mugabe's land policies sought to undo an inverse land ownership pattern where 4,500 whites owned over 70 per cent of agricultural land.
Mnangagwa also said, in remarks which did little to camouflage his own racist inclination: "But, because Zimbabweans are a good people, this is why we even allowed the former thieves to be allocated land."
He went on: "So, when His Excellency, the President pronounced 'Banket', he never said no white man shall own land. That is not correct.
"There is not a single province in this country where there are no white farmers. We have white farmers all over, who we have allowed to continue holding land and issued offer letters to them to own the land.
Source: New Zimbabwe